Snoozel Green Organic Dual Sided Cot Bed Mattress 70 X 140cm
From £169.00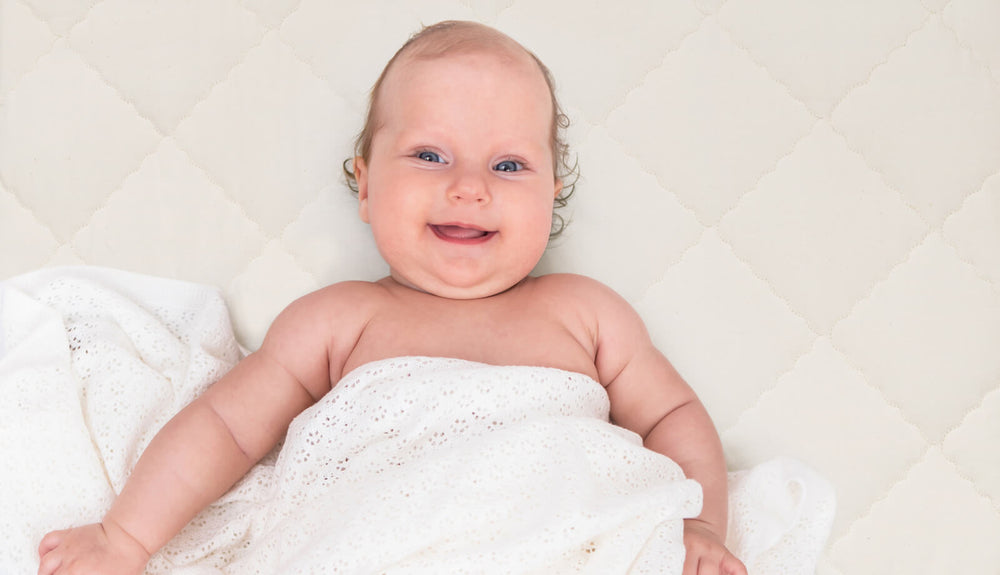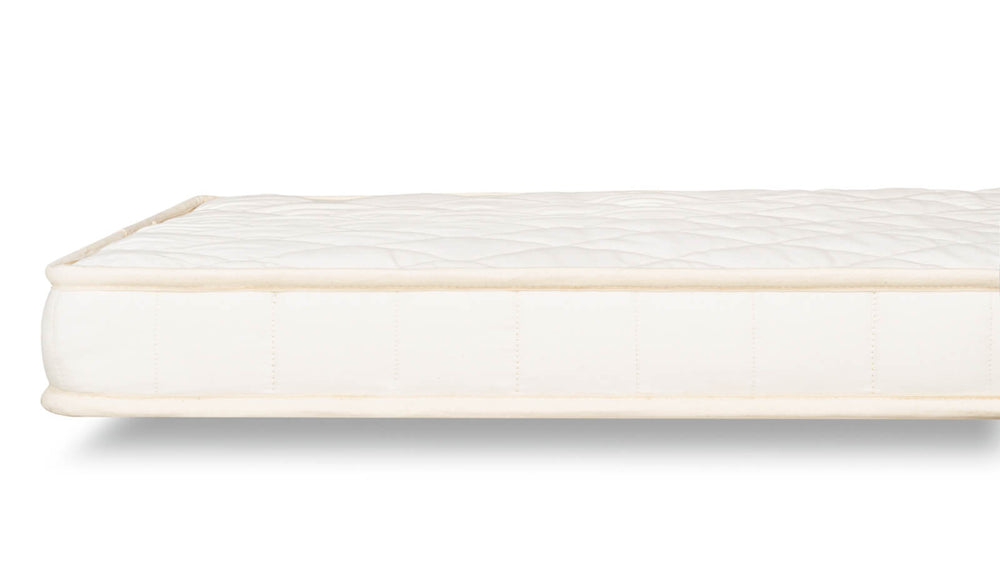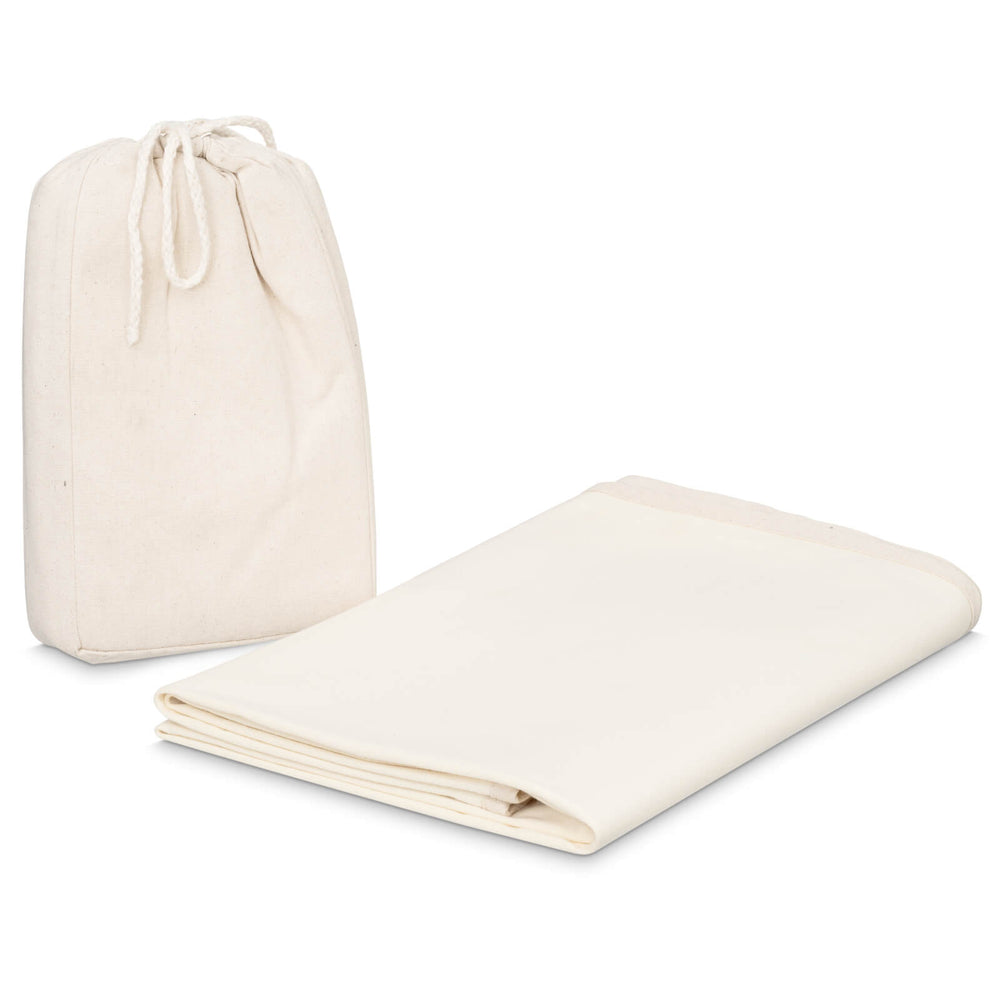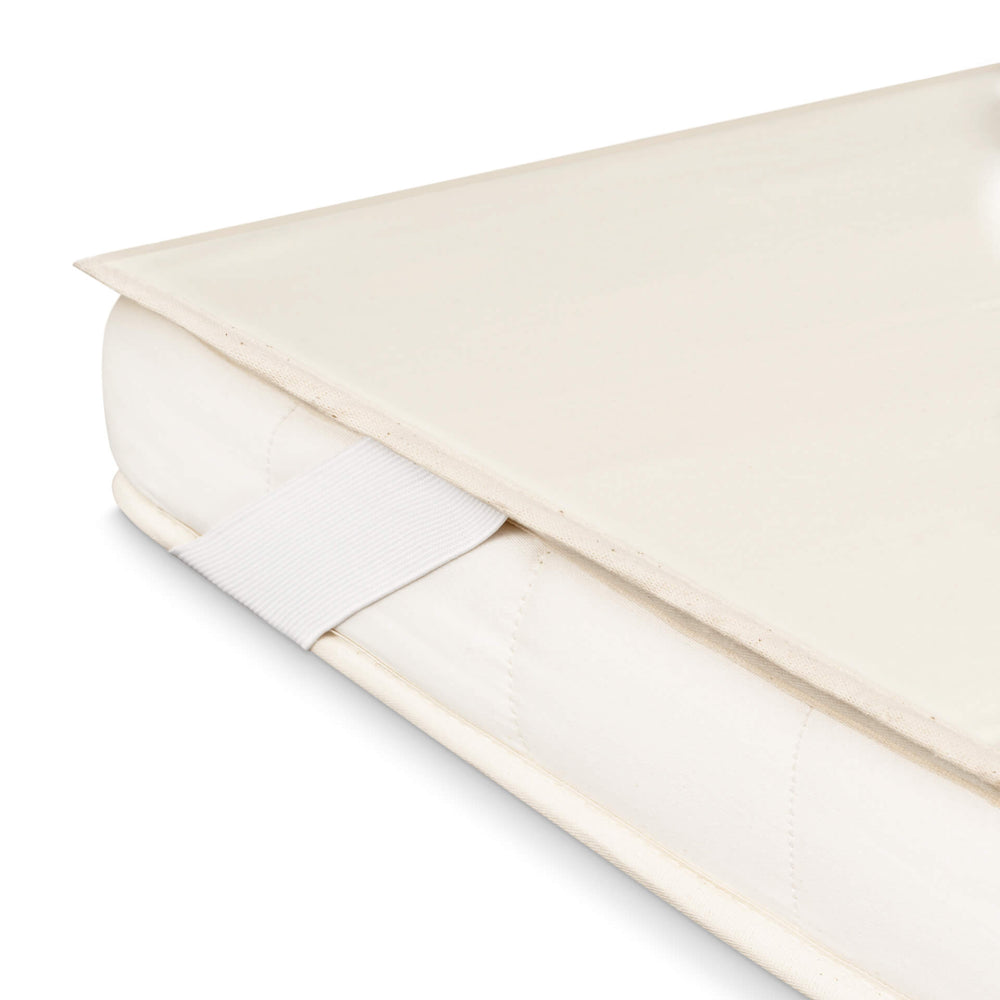 Organic Dual Sided Cot Bed Mattress 70 X 140cm
A Premium Natural Organic Cot Mattress, Handmade with Organic Latex, Coir (Coconut Fibre) and Organic Cotton & Sheep Wool. With No Toxic Harmful Chemicals or Fire Retardants, It Is Naturally Hypoallergenic.
A mattress that grows with your little one, a firmer side perfect for babies, then flip it over to the softer side as they become toddlers.
Regular price
£219.00
Sale price
£169.00
the natural cot mattress

The natural cot mattress is 2 Sided, making it versatile and durable:

The Firm side, recommended by safe sleep experts for younger infants, to provide support and ensure they do not overheat. The slightly softer side, ideal fortoddlers to transition to as they require greater comfort and pressure point support for growing bodies.

The Snoozel Green organic dual sided cot bed mattress will provide natural sleep support for your little one from new born to toddler!

All sizes are in centimeters (cm),
width x length x depth.

      70 x 140 x 10

Organic benefits

Having an organic cot mattress for your baby comes with a whole host of benefits for you, your baby and the planet:


Better sleep - The versatility of the dual sided mattress ensures that your baby/ toddler will always have the perfect sleep surface, keeping their bodies fully supported and comfortable as they grow. The natural materials also promote better sleep as they wick moisture away from the surface and thermoregulate to keep the little ones warm in the colder months and cool in the Summer. And we all know that when your baby sleeps more comfortably you too will sleep more soundly! You can find out more about theLatex,Cotton, andSheep wooland see just how amazing they really are.

Healthier sleep - The awesome natural and organic materials we use aren't just great for comfort and support, they are actually far healthier than their synthetic alternatives. There are absolutely no toxic chemicals or fire retardants used in our organic cot mattress, so your baby won't be breathing in harmful VOC that are off gassed from synthetic foams. The materials are also naturally antibacterial creating a dry sterile environment stopping the growth of bacteria, moulds, dust mites and microbes. In turn this makes the mattress hypoallergenic as dust mites are the main cause of bed related allergies. You can find out more about the health benefits of our materialshere.

Better for the planet - All Snoozel Green products have been developed to use the highest quality natural and organic materials that have the lowest impact on the environment, whilst benefiting the people and societies that produce them. We go to great lengths to source our materials from responsible producers who are organic certified wherever possible. You can read more aboutour credentialsto see just how great our products are.

materials

SURFACE MATERIAL

Cotton: GOTS certified Organic (Drill diagonal weave)

Weight: 125 grams per square metre (GSM)

Colour: Natural unbleached (Greige)

QUILTING 

Sheep Wool: Himalayan Organic certified

Weight: 500 GSM

NATURAL LATEX

100% natural A grade latex graphite blend sheet

Density: 75 kilograms per cubic metre (KCM) on top

Thickness: 3.75cm

RUBBERISED COIR (COCONUT FIBRE)

100% natural A grade latex graphite infused coir

Thickness: 4cm

FIRE SAFETY

BS 7177 - meets the requirements of BS EN 597-1 (cigarette) and  BS EN 597-2 (match), therefore can be classified as low hazard (domestic use).

delivery & returns

We use a two-man courier service for all our deliveries. Our Standard service is FREE, and includes packaging disposal (NOT AVAILABLE DURING LOCKDOWN) and delivery to room of choice up to the 2nd floor (please contact us before ordering if you need to go higher than this without a suitable lift).

Delivery crews wear safety boots with overshoes before entering the premises but may need to place the item on the drive or path to put the overshoes on. Because of Health & Safety requirements they are not permitted to remove their safety boots.

Looking after your mattress

Avoid washing or dry cleaning the mattress. We recommend blotting any stained area, and once dry using warm water and a natural detergent gently massaged into the area.

Internal dimensions of the furniture should be no greater than 2cm more than the length and width of the mattress.

If any part is broken or torn please inform us immediately and do not use the mattress.

Always be vigilant to the risk of fire and avoid placing the cot mattress close to open fires, radiators, electric heaters etc.

FAQs

Is your baby mattress organic?

The Snoozel Green dual sided cot bed mattress contains all natural and organic materials, from the coir (coconut fibre to the 100% tree tapped latex and Organic certified sheep wool and cotton cover).

What size is a cot mattress? 

The Snoozel Green dual sided cot bed mattress is 70cm x 140cm x 10cm. This is a standard UK size designed to fit the vast majority of cots, but always double check the dimensions of your cot before placing your order.

 

Can you reuse a cot mattress for a second baby?

Quite simply yes, and we always encourage people to maximise the use of our product and avoid wastage. The natural materials are extremely durable and designed to last a long time so there is no reason not to reuse it yourselves or pass it on to friends and family. *ALWAYS MAKE SURE THAT THE SURFACE MATERIAL IS NOT TORN OR TAGS RIPPED TO ENSURE THERE ARE NO POTENTIAL CHOKE HAZARDS.

 

How often should you change a cot mattress?

A Snoozel Green dual sided cot bed mattress should easily last until your child grows out of it, and it has the benefit of being dual sided. The firmer side is perfect when they are very young, and as they advance to toddler age you can flip it over to the softer side for them. *IF THE SURFACE MATERIAL OR TAGS COME LOOSE OR ARE TORN YOU SHOULD ENSURE THEY DO NOT POSE A CHOKE HAZARD. IF YOU ARE IN ANY DOUBT PLEASE DO CONTACT US.

 

Can parents sleep with a baby in the same bed?

There are different views on this, and individual circumstances to consider, so we would recommend contacting a qualified paediatric medical professional for their advice.

 

Are latex cot mattresses safe?

Latex is a great mattress material for adults and children alike. It offers great cooling offering comfort, support, and is chemical free as it does not contain any toxic fire retardants, so your little one can enjoy a naturally peaceful sleep.
We can all sleep naturally.
Most mattresses offer very little value to the consumer, and could actually be causing harm, with their synthetic, toxic layers of foam and chemical fire retardants.

We searched the planet for a factory to work with who shared our values and commitment to natural, organic and ethical production, until we finally met our partners in Sri Lanka.

They operate a factory that has a focus on high quality natural materials and processes, and is certified to produce organic products by OEKO-TEX, TUV, ECO-INSTITUT, GOTS and GOLS.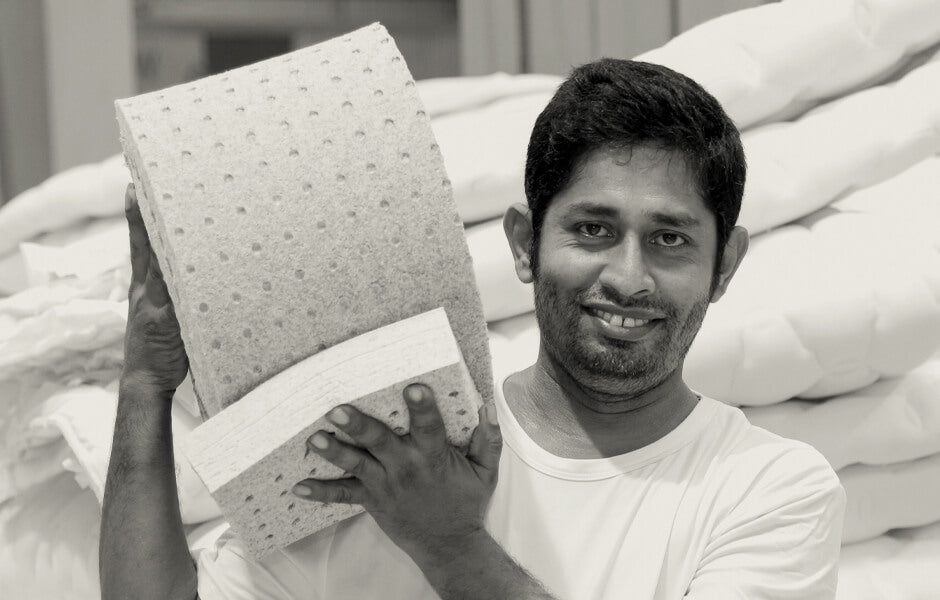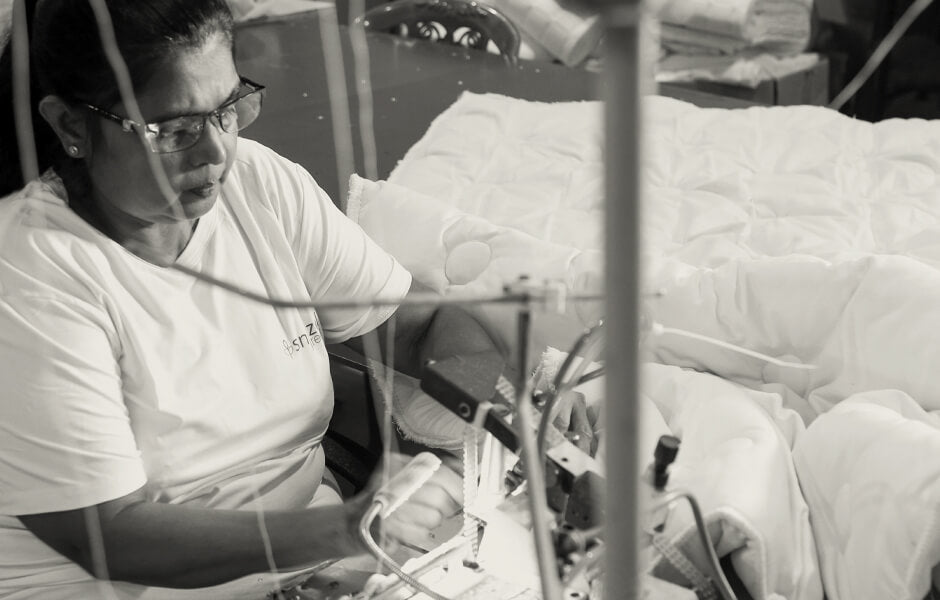 The factory itself is certified as carbon-neutral, as it is powered using felled rubber trees once their productive lives are over.
Located close to local independent rubber tree grove owners. They have nurtured close relationships ensuring high standards are maintained, and a fair price is always paid. Factory employees benefit from free food & accommodation, as well as a wage 20% higher than the market standard.
100% natural latex
Pair text with an image to focus on your chosen product, collection, or blog post. Add details on availability, style, or even provide a review.
certified organic cotton
Our Cotton is 100% GOTS certified grown & processed in Southern India to the highest organic standards.
certified organic wool
In the pastures of the Himalayan foothills free-roaming sheep are hand sheared to produce our certified organic wool.
Organic Mattress
FROM £699.00
The premium eco-friendly hybrid mattress, handmade with organic natural latex, organic cotton & sheep wool. With no toxic chemicals or fire retardants, it is naturally hypoallergenic & antibacterial.
Organic Topper
FROM £249.00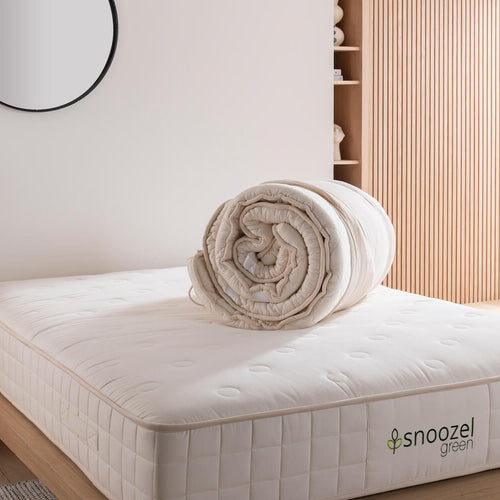 A great addition to the Snoozel Green mattress to create a luxurious plush sleep surface with 3 natural layers:
1) Organic certified Cotton cover
2) Organic certified Sheep Wool
3) Organic certified 100% A Grade Natural Latex
Organic Latex Pillow
FROM £65.00
The premium non-toxic, natural latex pillow is a great addition to the Snoozel Green mattress helping you sleep in natural comfort. The natural latex is medium firm providing cushioned support with perforations that allows for cooling airflow keeping you comfortable all night long.
Organic certified 100% A Grade Natural Latex with an Organic certified Cotton cover there are 2 shape options, both of which are suitable for front, back and side sleepers:
Elliptical - the versatile classic 'bar of soap' shape.
Contour - curved with one side slightly higher than the other. Offers head and neck support, promoting healthy spine alignment.