Snoozel Green Organic Mattress
From £699.00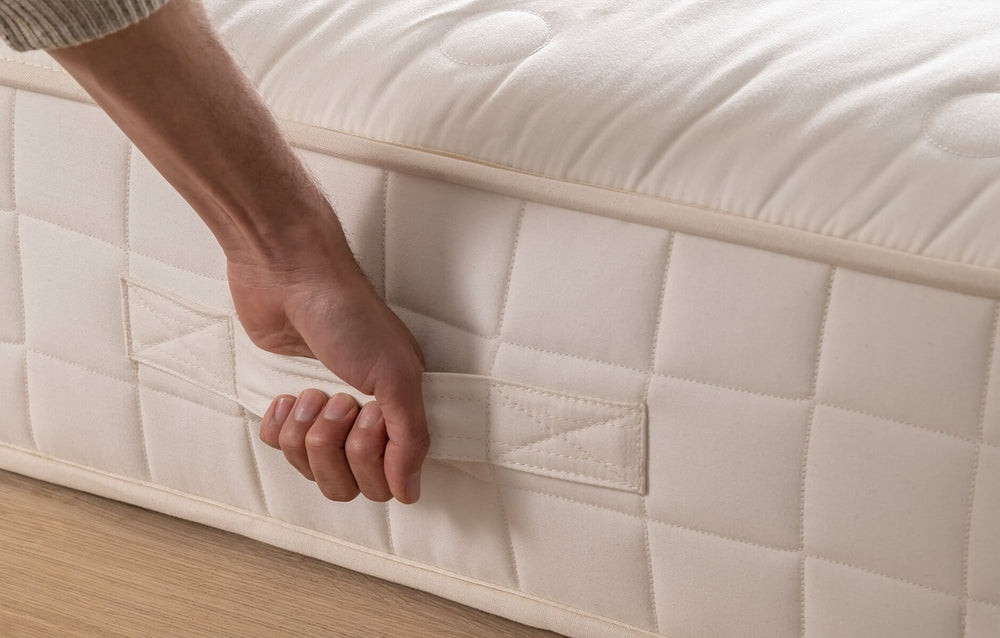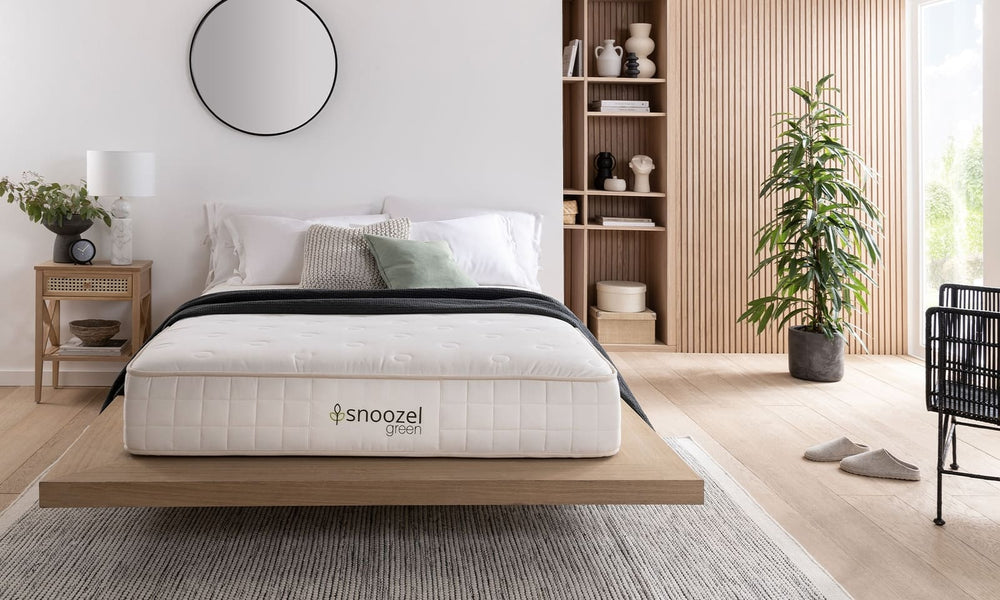 Organic Mattress
The premium eco-friendly hybrid mattress, handmade with organic natural latex, organic cotton & sheep wool. With no toxic chemicals or fire retardants, it is naturally hypoallergenic & antibacterial.
Regular price
Sale price
£699.00
the natural eco mattress

The premium eco-friendly hybrid mattress, handmade with natural latex, organic cotton & sheep wool. With no toxic chemicals or fire retardants, it is naturally hypoallergenic & anitbactirial.

no toxic chemical fire retardants

no chemical adhesives

no petroleum based foams

no bleach or pesticide

naturally hypoallergenic

naturally antibacterial

mattress dimensions

All sizes are in centimeters (cm), width x length x depth.


UK single 90 x 190 x 27 (25kg)
UK double 135 x 190 x 27 (38kg)
UK king size 150 x 200 x 27 (44kg)
UK super king 180 x 200 x 27 (54kg)

materials

SURFACE MATERIAL

Cotton: GOTS certified Organic 

Weight: 125 grams per square metre (GSM)

Colour: Natural unbleached (Greige)

QUILTING

Sheep Wool: Himalayan Organic certified

Weight: 500 GSM

NATURAL LATEX

100% natural A grade organic latex graphite blend sheet

Depth: 7.5cm

Density: 75 kilograms per cubic metre (KCM)

FIRE SAFETY

BS 7177 - meets the requirements of BS EN 597-1 (cigarette) and  BS EN 597-2 (match), therefore can be classified as low hazard (domestic use).

delivery & returns

We have a delivery of the following new stock that will be with us very shortly with:

SINGLE MATTRESSES
DOUBLE MATTRESSES

The estimated delivery date for new orders containing these items is from the week commencing 22nd JAN 2024, and we will keep you fully updated.

# We aim to make all deliveries of available stock within 10 working days.

# We use a two-man white glove courier service for all our mattress deliveries. 

# Our Standard service is FREE, and has your order delivered to your hallway.

# We also offer a premium delivery service (£30 surcharge), that can be selected at checkout and includes delivery to room of choice up to the 2nd floor; unpacking; and packaging disposal (please contact us before ordering if you need to go higher than the 2nd floor without a suitable lift).

5 years guaranteed

Sleep naturally with the peace of mind that your Snoozel Green mattress is covered by our 5 year guarantee. We will replace or repair all mattresses that fall within the scope of our 5 year guarantee.

Organic Waterproof Mattress Protector

A great addition to the Snoozel Green mattress, elasticated to fit snuggly over the mattress on its own as well as when the Snoozel Green Mattress Topper is added.

The fitted Waterproof Mattress Protector is the ideal barrier to defend your bed — both safe and dependable. Two layers of GOTS-certified organic  cotton sandwich a super-thin polyurethane waterproof film, providing breathable protection so you can sleep with ease and comfort.

Organic Cotton Single Jersey Laminated Sandwiched Fabric (Beige Color) 245 GSM

rejuvenated mattresses

Rejuvenated mattresses are part of our 101-night trial returns process as we aim to minimise wastage and avoid sending perfectly good products to landfill.

Having been used for less than 30 days the mattresses are fully inspected, fault free, cleaned, and come with a 30-night risk free trial period.

Our return rate is very low, but if we have any in stock you will find them listed here.

Rejuvenated mattresses have a free trial period of 30 nights.

*GRADE A Mattreses - may have the odd very small scuff or mark, but will be in (near) perfect condition, and are great value at the discounted price.

​**GRADE B Mattreses - will have the odd scuff or mark, and potential warehouse damage. This will only be superficial markings to the surface material that will not impact the mattress comfort or performance. They are great value at the discounted price.

sleep on it for 101 nights

We understand that everybody is different, and you need time to be confident that your new mattress is the right choice, which is why we offer a risk free 101 trial night period.

If after a minimum period of 30 nights and within the 101 night trial period you would like to return the mattress we will collect it free of charge. All you have to do is contact us with your reason for return (we will try to help find a solution if possible).

Full details can be found here.




sleep surface
A luxurious GOTS organic certified cotton cover, unbleached, un-dyed, in a drill diagonal weave. Naturally hypoallergenic, soft, breathable and moisture wicking
comfort layer
Organic wool provides an initial cushion of comfort; a unique ability to wick away moisture; is naturally insulating and thermoregulating.
contouring support
A 7.5cm layer of tree-tapped Organic 100% natural latex, is breathable, and gently contours the body for effective pressure point relief.
no drop-off feel
A 5cm layer of Organic 100% natural latex wraps around the sides of the mattress to maintain shape, structure & provide consistent edge to edge reinforcement. Topped with an insulating layer of recycled cotton felt.
the foundation
Individually wrapped pocket springs provide motion transfer reducing support with 14 gauge steel springs - 20 per ft2.
heavy-duty handles
Two sturdy upholstered handles on each side, neatly sewn for a tight fit, and smooth finish when you add your sheets. Makes moving your mattress a breeze.
We can all sleep naturally.
Most mattresses offer very little value to the consumer, and could actually be causing harm, with their synthetic, toxic layers of foam and chemical fire retardants.

We searched the planet for a factory to work with who shared our values and commitment to natural, organic and ethical production, until we finally met our partners in Sri Lanka.

They operate a factory that has a focus on high quality natural materials and processes, and is certified to produce organic products by OEKO-TEX, TUV, ECO-INSTITUT, GOTS and GOLS.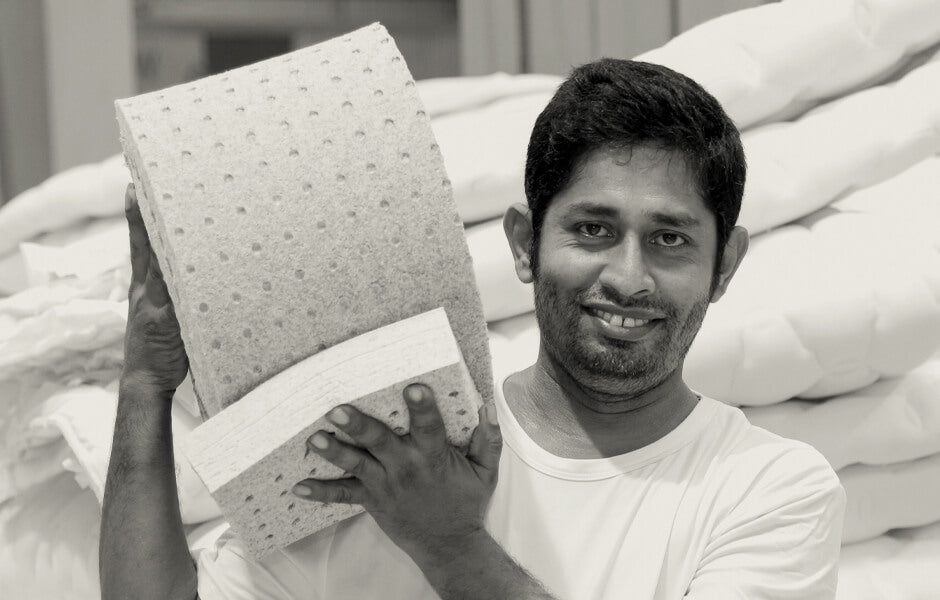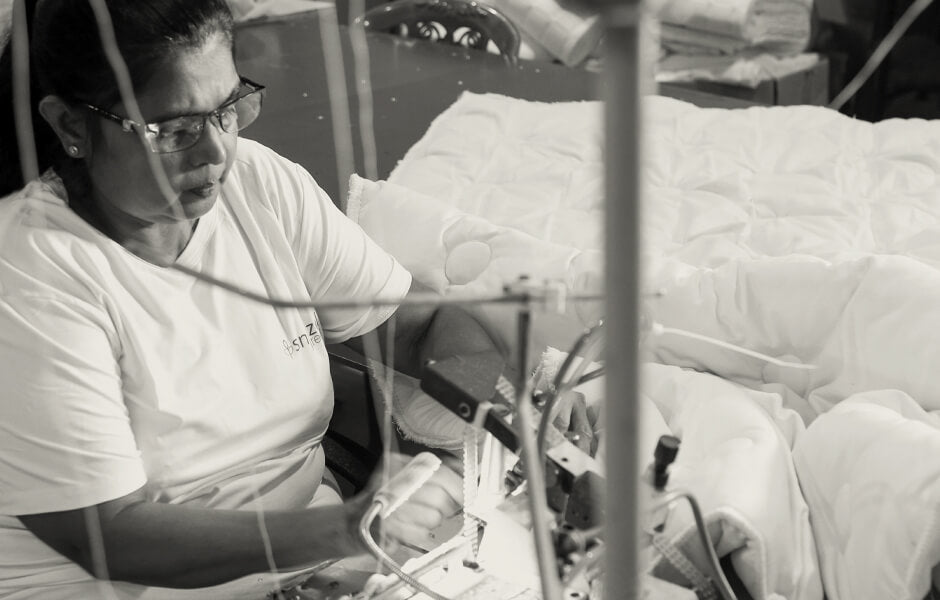 The factory itself is certified as carbon-neutral, as it is powered using felled rubber trees once their productive lives are over.
Located close to local independent rubber tree grove owners. They have nurtured close relationships ensuring high standards are maintained, and a fair price is always paid. Factory employees benefit from free food & accommodation, as well as a wage 20% higher than the market standard.
100% natural latex
We only use Organic certified latex that is A Grade 100% natural latex from FSC sustainably managed rubber tree groves
certified organic cotton
Our Cotton is 100% GOTS certified grown & processed in Southern India to the highest organic standards.
certified organic wool
In the pastures of the Himalayan foothills free-roaming sheep are hand sheared to produce our certified organic wool.
Organic Mattress
FROM £699.00
The premium eco-friendly hybrid mattress, handmade with organic natural latex, organic cotton & sheep wool. With no toxic chemicals or fire retardants, it is naturally hypoallergenic & antibacterial.
Organic Topper
FROM £249.00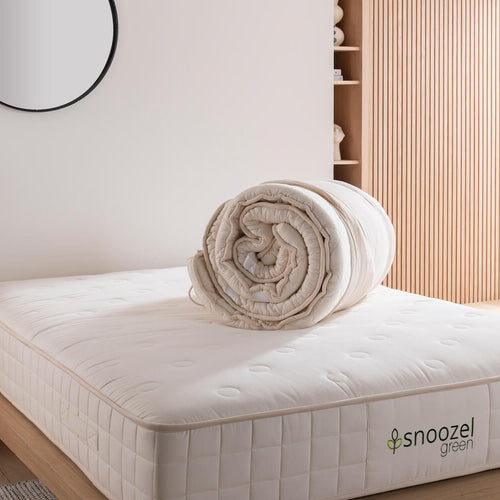 A great addition to the Snoozel Green mattress to create a luxurious plush sleep surface with 3 natural layers:
1) Organic certified Cotton cover
2) Organic certified Sheep Wool
3) Organic certified 100% A Grade Natural Latex
Organic Latex Pillow
FROM £65.00
The premium non-toxic, natural latex pillow is a great addition to the Snoozel Green mattress helping you sleep in natural comfort. The natural latex is medium firm providing cushioned support with perforations that allows for cooling airflow keeping you comfortable all night long.
Organic certified 100% A Grade Natural Latex with an Organic certified Cotton cover there are 2 shape options, both of which are suitable for front, back and side sleepers:
Elliptical - the versatile classic 'bar of soap' shape.
Contour - curved with one side slightly higher than the other. Offers head and neck support, promoting healthy spine alignment.
Looking to order individual pillows? You can do so via Amazon with FREE DELIVERY here